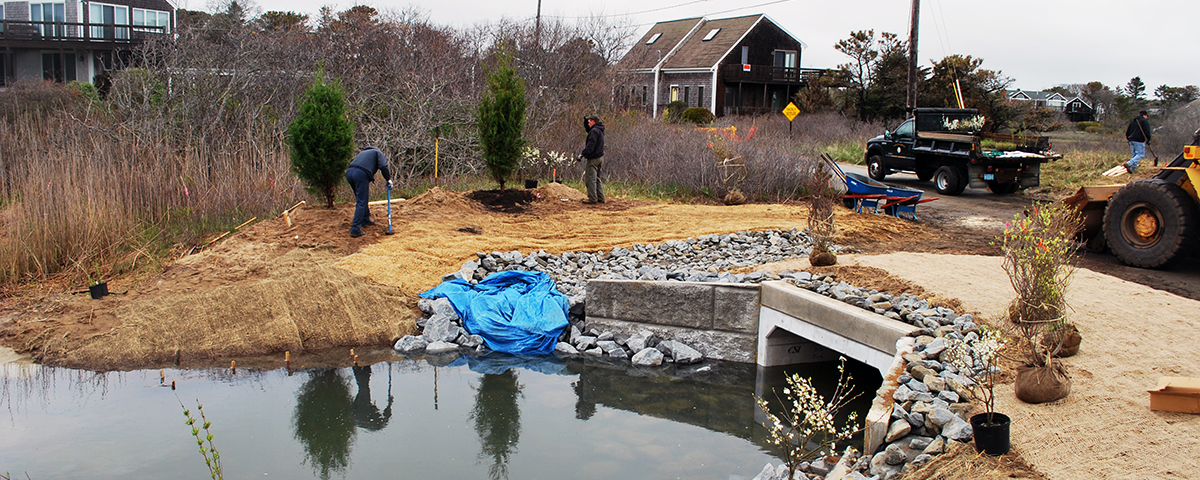 Ecological Restoration services aid in the recovery of ecosystems that have been impacted or degraded by past human activities. Our staff works with state and federal agencies, towns and cities to provide all aspects of ecological restoration work.
Coastal projects may include environmental mitigation, restoration of tidal flow to restricted salt marshes and salt ponds, culvert replacement, invasive species management, habitat assessment, coastal processes, and coastal restoration.
Fresh water projects may include environmental mitigation, stream restoration and bank stabilization, lake and pond shoreline restoration, woodland and wetland restoration, dam removal, and culvert replacement per state stream crossing standards. We are a pre-qualified contractor for the Massachusetts Coastal Zone Management, Wetland Restoration Program, with the Division of Ecological Resources, and New England Environmental.
Our services include the following;
Restoration Planning

Feasibility Analysis

Hydrological Analyses

Biological Surveys

Technical Studies

Expert witness services

Coastal Change Assessment

Alternatives Analysis

Engineering Design

Permitting

Construction Administration and Monitoring

Assistance with the grant funding process

Public Outreach assistance
Contact us if you have a project you would like to discuss.