Looking for a Career?
The Horsley Witten Group is always looking to add professionals to our team who can support a wide range of technical work and foster corporate growth. The work environment encourages collaboration and pushes employees to broaden their horizons and take on new challenges. Fun, creative, smart, and motivated professionals characterize our staff at all levels. We also have several office locations, more than one of which may be able to accommodate staff member additions. *We are currently working remotely.
Current openings are listed below. If nothing is listed today, feel free to reach out and send a résumé and cover letter to hwinfo@horsleywitten.com.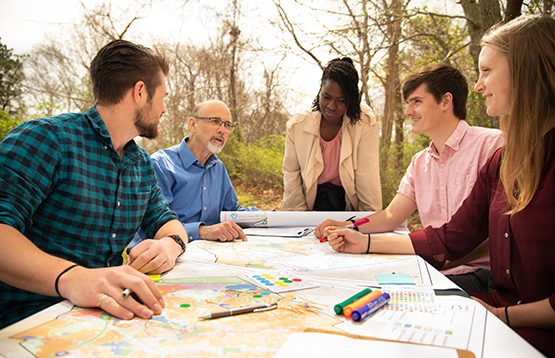 Project Planner/Manager
Horsley Witten Group has an immediate opening for a self-starter project planner/manager based in our Sandwich, MA office to both develop, lead, and support the various fast-paced projects the firm maintains with the U.S. EPA and other clients. In this position you would work with other staff to create both in-person and virtual training events that aid both governmental and private clients in preparing for, mitigating against, responding to, and recovering from both natural and man-made disasters. Training events will range from seminars and workshops to full scale exercises, with an emphasis on tabletop and functional exercises. Training event development and facilitation support includes:
Lead all aspects of training event planning including meetings and coordination with the client and designated planning team
Oversee HW event support staff
Coordinate with and confirm qualified presenters
Support all aspects of event logistics
Facilitate and lead discussions on a wide variety of topics during the events
Produce detailed event summaries and after-action reports
Identify action items and support clients with implementation
In addition, in this position you will have the opportunity to develop drinking water and wastewater emergency preparedness and response focused training materials, outreach products, and presentations for a national audience.
Potential candidates will have:
A bachelor's degree from an accredited (or otherwise accomplished) university
5 years' experience that includes documented experience managing projects
The ability to manage work for multiple deadlines simultaneously
The ability to organize training events and facilitate discussion
Strong research and report writing skills
Public speaking skills
Willingness to travel in the lower 48 states, up to 20% of your time (though travel may be limited initially due to COVID-19)
Proficiency with the Microsoft Office Suite (e.g., Outlook, Word, Excel)
Experience with virtual training platforms (e.g., Microsoft Teams, Webex, GoToMeeting).
Other desirable (not required) qualifications include:
Experience working in the environmental or planning field
A basic understanding of or interest in the drinking water and wastewater sector
Incident Command System/National Incident Management System (ICS/NIMS) qualifications
Interested candidates should provide a professional writing sample and references.
GIS MANAGER
Horsley Witten Group is looking for an advanced GIS professional to add to our team. HW is a multi-disciplinary consulting firm that relies on GIS to support nearly all our services. Qualified candidates will demonstrate willingness and ability to perform in a deadline-driven environment and to collaborate with staff members who have a diverse set of technical and graphics needs. HW uses GIS is to support community planning, public engagement, civil engineering, watershed assessment, hydraulic and hydrologic modeling, wetland and stream restoration, field data development, and other services. Creativity, collaboration, communication, problem-solving, and resourcefulness are important in our work. We are looking for someone who can help us grow our current practice and elevate/expand our services related to GIS.
Minimum qualifications include:
Experience with ESRI ArcMap 10.5 or higher, common Geoprocessing Tools, Network Analyst and Spatial Analyst
Experience with ESRI's field tools (e.g., Collector) as well as ArcGIS Online, ArcGIS StoryMaps and ArcGIS Survey123
Master's degree in GIS studies or similar program. Candidates currently pursuing a master's degree meet the minimum qualification
Preferred qualifications include:
Two to five years of professional work experience in a GIS position that includes the majority of the duties listed below
Strong experience with web-based mapping ArcGIS applications (e.g., Web AppBuilder), programming languages for GIS (e.g., Python, VBA, etc.) and database skills (e.g., Microsoft Access)
Documentation of products and successfully completed assignments that demonstrate skills appropriate to the duties listed below. While the ideal candidate will have experience related to all duties listed below, HW acknowledges the successful candidate may only have direct experience with some of these duties
Duties would include, but would not be limited to:
TECHNICAL

Developing maps in support of permitting, design, reports and/or proposals
Managing and/or performing analyses on spatial data from field work performed by HW surveyors, engineers and scientists
Preparing and managing geospatial data that migrates between different software platforms (e.g., AutoCAD, various hydrologic and hydraulic models)
Developing and maintaining desktop and/or web-based applications directly with clients
Using remote sensing data, digital elevation models (DEMs), LiDAR and other raster data and performing raster-based analyses
Writing geospatial elements of technical proposals, estimating level of effort
Developing and documenting quality assurance procedures for geospatial projects
Occasionally conducting field work or attending meetings for projects that involve geospatial data in the New England area

ADMINISTRATION/MANAGEMENT

Researching new tools and technologies for project-related needs or opportunities for growth
Serving as quality control/quality assurance for GIS work performed by technical staff
Occasional direct communication with clients
Occasional oversight, training, and mentoring of technical staff
Management, archiving, and updating of in-house GIS databases
Leading and convening regular meetings of GIS users at HW
Managing software licensing and ESRI account maintenance
Developing map templates and metadata
Training staff on GIS techniques and new technologies
Developing software/equipment budgets for GIS related activities
Please submit the following materials to Anne Kitchell at akitchell@horsleywitten.com
Cover letter briefly describing your professional goals and why you want to work at HW
Résumé
Work Samples – This can include e-mailed attachments or links to products or projects. Please provide a brief but detailed description of the duties performed as part of work samples.
Detailed list of software, apps, and geospatial analytical packages with which the applicant has experience
Up to three references
Project Coordinator
Horsley Witten Group has an immediate opening for a Project Coordinator to assist with project support the firm provides for the U.S. Environmental Protection Agency and other clients. This is an entry level position that includes helping with the following tasks led by HW:
Manage the scheduling, registration, technical support, and follow-up tasks associated with ongoing virtual and in-person training events

Work with other staff to schedule and advertise the training events
Manage the web-based workshop registration process, respond to participants' questions and provide registration updates
Provide technical support during the webinars
Obtain and track continuing education (CE) credit approval from appropriate state and federal agencies for the training events
Track workshop participation and send certificates of attendance to participants and follow up with state agencies for granting of CE credit
Create workshop summaries documenting both event discussions and the written evaluations provided by participants

Provide data organization, analysis and summary support on a variety of topics and/or issues
Review technical documents for editorial accuracy
Assist the project managers in other meeting, public engagement, and event logistics support
Outreach coordination will be the position's primary focus but there will be opportunities to assist with other science, planning, and engineering projects including documenting meetings and public engagements, event logistics, and data management tasks. An Associate of Science or Applied Science degree or higher is preferred for this position. The successful candidate will be able to work proficiently in the Microsoft Office suite (e.g., Word, Excel, Outlook).
Scientist/Engineer/Emergency Response Planner
with a focus in Cybersecurity
Horsley Witten Group is expanding the services we currently provide into the fast-growing field of cybersecurity as it relates to drinking water and wastewater utilities. This position reflects changing times and emerging issues and, as such, HW is approaching this employee search with some flexibility. For the first several years of employment, the successful candidate will focus primarily on cybersecurity services, helping us to meet upcoming contract assignments. These assignments will regularly include:
Assessments of current cybersecurity practices used by utilities to determine if they are capable of preventing and/or responding to a cyber-attack
Development of cybersecurity training materials for utilities and state and federal officials involved in regulatory oversight of drinking water and wastewater utilities
Leadership of virtual and in-person training sessions for utility managers and operators
Oversight of work products and project deliverables
In addition, the candidate will have an opportunity to work with other staff to develop both in-person and virtual training events that aid both governmental and private clients in preparing for, mitigating against, responding to, and recovering from both natural and man-made disasters. HW has developed a reputation as a leader in developing events that promote preparedness and coordination of the drinking water and wastewater sector with jurisdictional response partners (e.g., police, fire, emergency management, public health).
As with almost all our employees, we expect the successful candidate will grow professionally to assist with other water resource projects (science and/or engineering) and perform in a collaborative, multi-disciplinary setting. Overnight travel is not required initially, but it may be as more trainings are conducted in-person post-COVID.
Our preference for this position is an emergency response planner, water resource scientist/engineer, or water/wastewater utility operator/manager who can help with our cybersecurity assessments and trainings for drinking water and wastewater utilities across the U.S.A. A bachelors or master's degree in emergency planning, environmental science or engineering with five years of experience is preferred. For these candidates, experience with cybersecurity topics and/or a cybersecurity certificate is a plus.
As described above, in accordance with our flexible approach, HW also would consider candidates who have dedicated much of their studies and career to cybersecurity, but also demonstrate an ability to apply these skills to the drinking water and wastewater sector.
LANDSCAPE DESIGNER
Horsley Witten Group is looking for a Landscape Designer with 2-7 years of experience to provide design support for a wide variety of environmental, park, site development, and restoration projects. The position will primarily support our New England public and private sector clients. The office from which this position is based is not pre-determined and HW expects to accommodate a significant level of "at home" work until we return to more frequent office visits post-pandemic.
Job activities would include:
Site design, grading and drainage, and planting plans from concept through construction
Cost estimating
Drafting support for production (AutoCAD) of design plans and construction details
Graphic support including plans, sections, elevations, perspectives for the inclusion in reports, presentations, and outreach materials
Developing hand-drawn concept plans and sketches to effectively convey design ideas
Fieldwork including site assessments and construction oversight
Coordination with sub consultants or allied professionals' design staff (Architects, Landscape Architects, Planners, etc.)
The position requires strong experience in site design, grading and drainage, planting design, and construction details. Candidates must also be proficient with AutoCAD, Microsoft Office, and the Adobe Suite software. The ideal candidate should be a self-starter, enjoy working in a team environment, and be a good communicator. The candidate is not required to be a registered landscape architect but should be prepared to demonstrate they are working towards registration.
STAFF/Project Engineer
Horsley Witten Group currently has an opening for a Staff / Project Engineer. The position will primarily support our New England public and private sector clients. The office from which this position is based is not pre-determined and HW expects to accommodate a significant level of "at home" work until we return to more frequent office visits post-pandemic. The position involves providing site design and stormwater management support for a wide variety of projects.
Candidates in this position may:
Prepare design plans and calculations, technical specifications, and cost estimates
Perform literature research, analyze data, and summarize data in the narrative, tabular, or graphic formats
Prepare technical memoranda and reports
Perform field assessments, construction inspections, and site visits
Attend client meetings, including government agencies, non-profit groups, and private firms, as well as public meetings
Work along with experienced engineers, landscape architects, scientists, and planners
Receive training and experience in other fields, as applicable to project work
Preferred qualifications include:
A Bachelors' Degree in Civil Engineering
Engineer in Training (EIT) certification or ability to obtain within 12 months
Between 1 and 5 years of professional experience
Demonstrated proficiency in AutoCAD, including AutoCAD Civil 3D
Knowledge of hydrology, hydraulics, and related modeling software (e.g., HydroCAD, EPA SWMM, HEC-HSM, or other software)
Experience with ArcGIS
Interest and ability to travel locally to perform fieldwork
Excellent communication and time management skills
No phone calls. Please email résumé and cover letter to hwinfo@horsleywitten.com
Horsley Witten Group, Inc. is an Equal Opportunity Employer. All qualified applicants will receive consideration for employment without regard to race, color, religion, sex, sexual orientation, gender identity, national origin, veteran status, or disability.