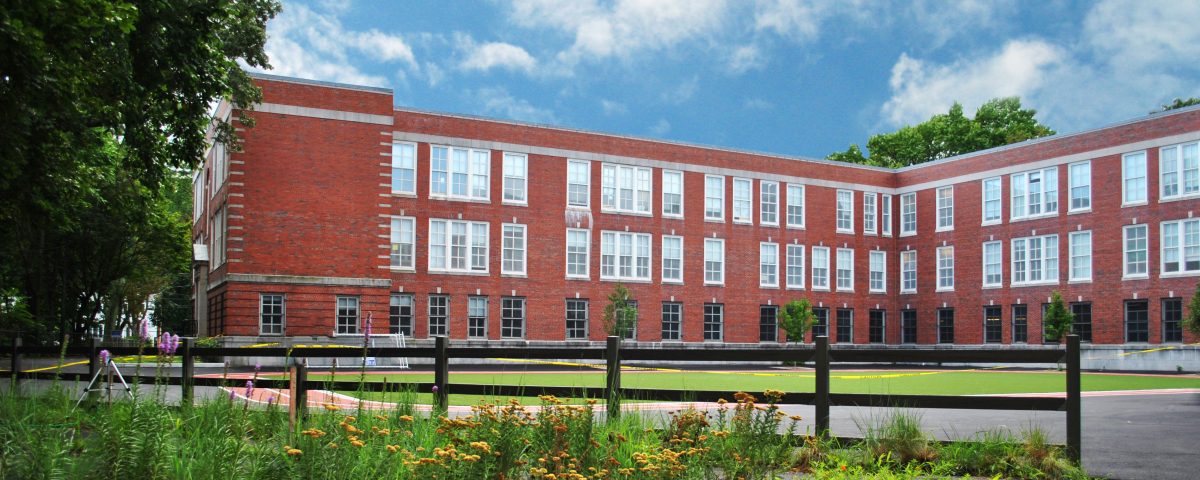 Boston Public Schools
Boston Water and Sewer Commission
Transforming Boston schoolyards into stormwater classrooms has been one of our most rewarding endeavors! In 2015, we began a collaboration with the Boston Water and Sewer Commission and Boston Public Schools (BPS) to install green infrastructure at five schools. These projects are important pilot projects, as BPS plans to incorporate green infrastructure into its 10-year strategic plan for educational programming and capital investments. We led the design team with support from Offshoots, Charles River Watershed Association, and Bryant Associates. The project won a 2015 Stormy Award from the New England Stormwater Collaborative.
One of the most exciting parts of this project for us was working with education consultant Kristin Metz on integrating stormwater into the middle school science curriculum. Engaging students and promoting interaction was a key design objective that resulted in the installation of hand pumps, medicinal gardens, synthetic turf fields, rain gauges, and real-time flow monitoring. Facility installations to date include:
City's largest public bioretention facility that serves as an outdoor classroom and pollinator garden

A pervious synthetic turf field with surrounding tree filters in the former asphalt play yard

An experimental design that will monitor the performance of a traditional concrete swale and "green" bioswale

Redesigned play space created by students, teachers, and Icon Parks Design
A stormwater park that mimics the journey of stormwater into the Charles River and teaches the value of good stormwater management

A medicinal garden and green roof

Enhanced tree trenches and pervious pavement
CLIENT: Boston Water and Sewer Commission

PROBLEM: Charles River Phosphorus TMDL compliance

SOLUTION: Green Infrastructure design and construction, stormwater education

BENEFITS: Volume reduction and phosphorus removal, improved play space, aesthetics, habitat, science curriculum

MORE INFORMATION:

Construction Contractors: Tasco and Metro Equipment Corp.
BWSC Project Coordinator: Kate England
Construction is complete!
Boston Mayor Walsh attended the ribbon cutting at the Irving in October to debut what he called Boston's "flagship" school.