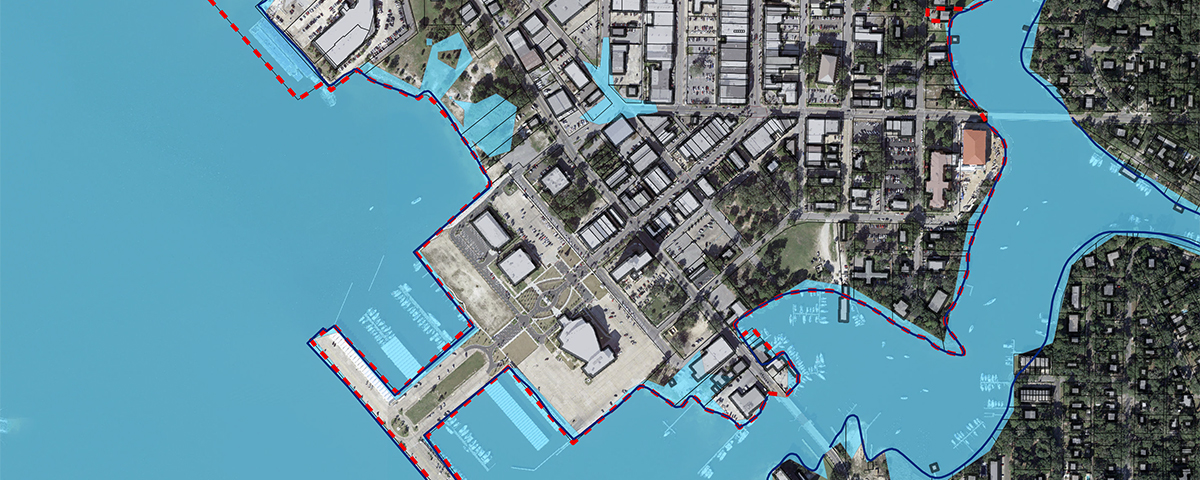 Geographic information systems (GIS) are an integral part of our entire body of services. We use this technology to prepare for field assessments, facilitate effective decision-making, engage with the public, and educate public officials. Our services featured below highlight unique ways to apply GIS analysis by guiding our clients to make better decisions and advance project deliverables.
SITE SUITABILITY
We use GIS to investigate conditions across a site, neighborhood, or region to identify the best locations for stormwater retrofits, parks, habitat restoration, or other infrastructure improvements. Our staff routinely uses this process to weigh the advantages and disadvantages of site locations to meet specific project goals. Often, suitability analyses are applied to enhance decision support tools, which allow our clients to interact with the data to answer specific questions. We work closely with our clients to create models that analyze and visualize datasets for prioritizing design and implementation.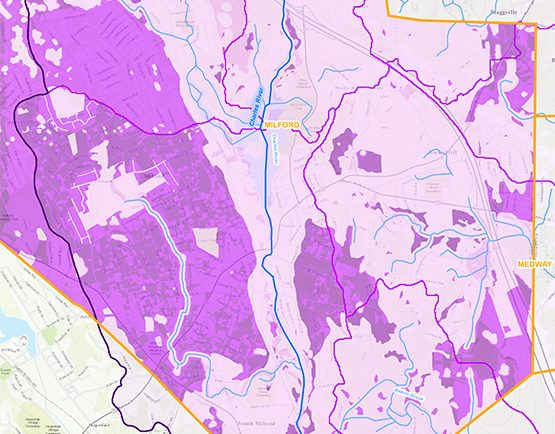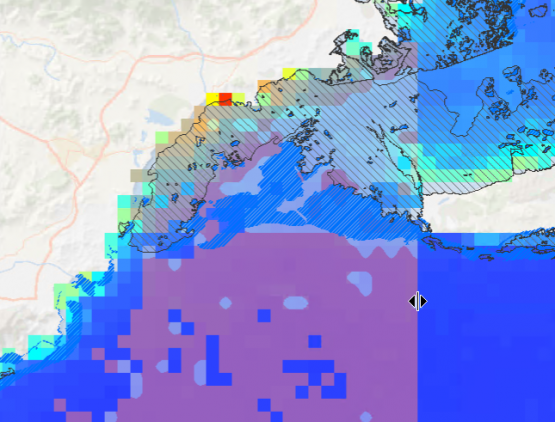 geospatial data processing
Geospatial data exist in many different formats including, but not limited to, raster, grid, and vector. Further, the file types for each of these data forms may need to change based on the need to interface with other design and modeling software. Our technicians understand how to develop, store, and process data to ensure a seamless flow of information between field investigations, desktop analyses, modeling, design, and map development. For example, we use aerial imagery from the National Agriculture Imagery Program (NAIP) to identify impervious surfaces anywhere in the contiguous United States. These data are updated every three years at a spatial resolution of one meter, allowing for a more detailed analysis when field assessments are not an option.
land use planning
Whether planning at the municipal, neighborhood, or watershed scale, GIS provides an opportunity for shaping policy through quantitative analyses and future scenario planning. Build-out analysis, for example, is a tool used to estimate the amount of development that could occur based on a municipality's land use regulations and constraints to development, such as wetlands, protected lands, and significant historic resources, among others. We use build-out analyses to help local governments engage in regulatory reform, protect local water supplies, revitalize neighborhoods, and comply with state-level stormwater requirements.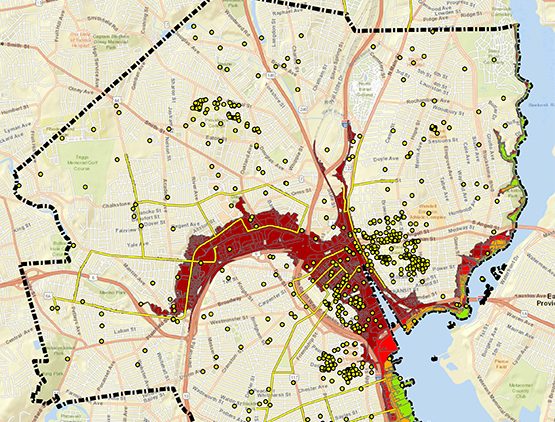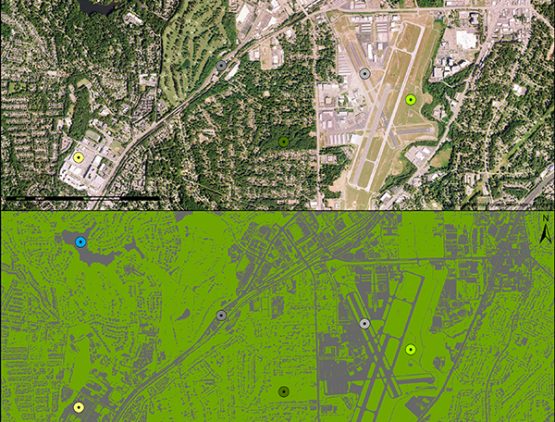 RISK ASSESSMENT
With the onset of climate change and increased natural hazards, risk assessment has become an extremely high priority for all levels of government and tribal leadership. We use coastal and inland flooding analysis to identify where potential hazards pose a risk to vulnerable populations, critical facilities, roads, and infrastructure assets. These map-based assessments are an integral part of HW's Hazard Mitigation Plan portfolio and help communities become proactive in their efforts to protect their residents and business owners from future disaster.
public education & engagement
We use GIS technology to offer a wide range of opportunities to educate and engage with the public. The most common approach is the artful display of technical data on base maps, aerial images, or custom-made maps to visualize import issues at many different scales. To present more complex content in a polished fashion, we are incorporating spatial data into Story Maps, which connect project narratives with interactive maps, images, and videos. Users read through the narrative and are encouraged to explore supplemental information by zooming in and out of maps, accessing pop-ups, watching videos, and much more. GIS applications even include on-line, interactive map surveys that allow our clients and the public to directly engage with maps to let us know about important places or specific issues in their neighborhood.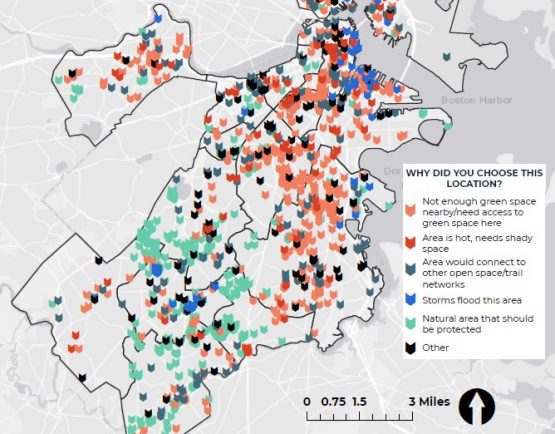 cloud-based information sharing
The ArcGIS© Online platform used by our staff enables the collection of spatial information and sharing of maps with the public, clients, partners, and internally between colleagues. It allows for real-time updates between all users and can be shared seamlessly in the form of maps and other online applications, such as geospatially referenced public surveys, even with users that do not have GIS software. The ArcGIS Online platform is an umbrella term for many different applications or "apps", which further enhance the experience. For example, our staff collects data in the field on mobile devices and shares it instantly with other field teams, colleagues back in the office, or clients. Construction inspections are streamlined with these applications and can be sent directly to the client before we even leave the site.