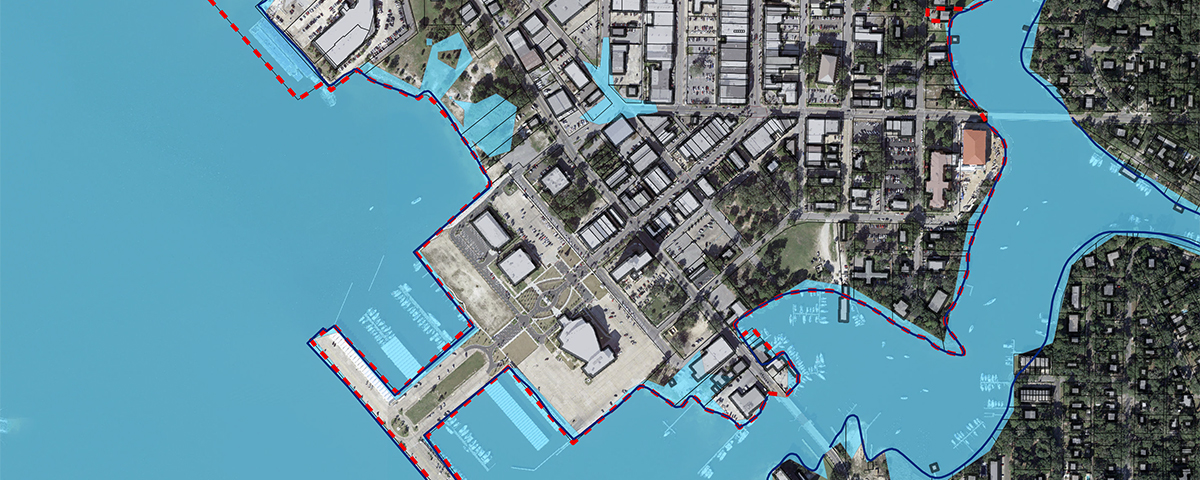 We use geospatial analyses in robust and innovative ways to acquire, process, analyze data, prepare for field assessments, facilitate effective decision-making, and create intuitive maps and other helpful visuals. Our services featured below highlight unique ways to apply GIS analysis by guiding our clients to make better decisions and advance project deliverables.
SITE SUITABILITY
Data Modeling
We use GIS to investigate conditions across a landscape or region to identify the best locations for stormwater retrofits, parks, habitat restoration, or other infrastructure improvements. Our staff routinely uses this process to weigh the advantages and disadvantages of site locations to meet specific project goals. As a geospatial pre-screening method for large project areas, this process can help to inform and prioritize locations for productive field assessments. Often, suitability analyses are applied to enhance decision support tools, which allow our clients to interact with the data to answer specific questions. We work closely with our clients to create models that analyze and visualize datasets for prioritizing design and implementation. This tool helps communities implement stormwater practices. Our projects include a constructed wetland in Milford, an infiltration basin in Stoughton, and a rain garden in Medford, to name a few!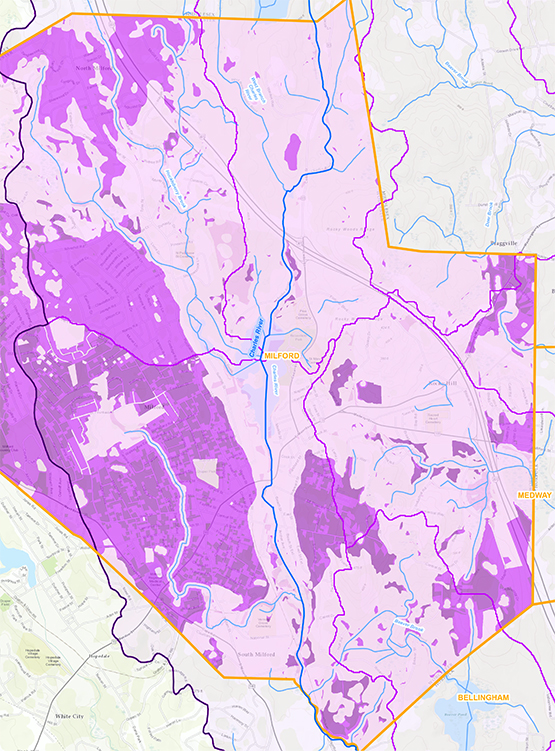 RASTER-BASED ANALYSIS
Data Analysis
Raster-based analysis can be a powerful tool to compute changes over space and through time. Recently we applied this type of analysis to identify and quantify the effects of hurricanes on water quality in the coastal waters of Puerto Rico after
hurricanes Maria and Irma.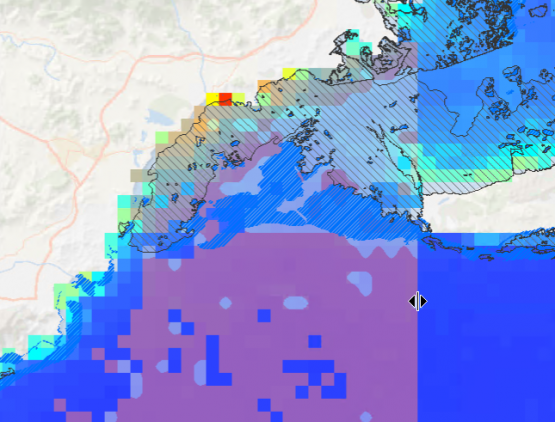 BUILD-OUT ANALYSIS
Land Use
Build-out analysis is a tool used to estimate the amount of development that could occur based on a municipality's land use regulations and constraints to development, such as wetlands, protected lands, and significant historic resources, among others. We use build-out analyses to help municipalities make more informed decisions around land use policies.
RISK ASSESSMENT
Emergency Planning
Risk Assessment includes coastal flooding analysis, which allows the client to see where potential hazards, such as coastal or riverine flood zones are located, and how they relate to critical infrastructure. We use the latest coastal flooding models from NOAA, enhancements from state agencies, as well as flood models from research organizations like the Woods Hole Group.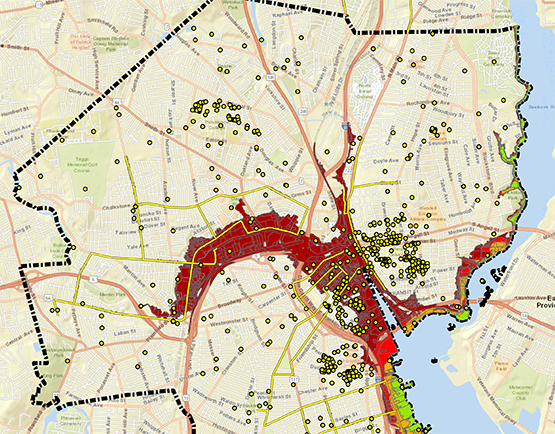 REMOTE SENSING
Aerial & Satellite Imagery
Remote sensing is the practice of using satellite or aerial imagery to obtain information about any location on the planet. It can be immensely helpful where project sites are either inaccessible or so large that field visits are not possible. We use aerial imagery from the National Agriculture Imagery Program (NAIP) to identify impervious surfaces anywhere in the contiguous United States. While impervious cover information may be available from a town or a state, it is often outdated or at a coarse resolution. The use of NAIP data, which is updated every three years at a spatial resolution of one meter, allows for a more detailed analysis when field assessments are not an option.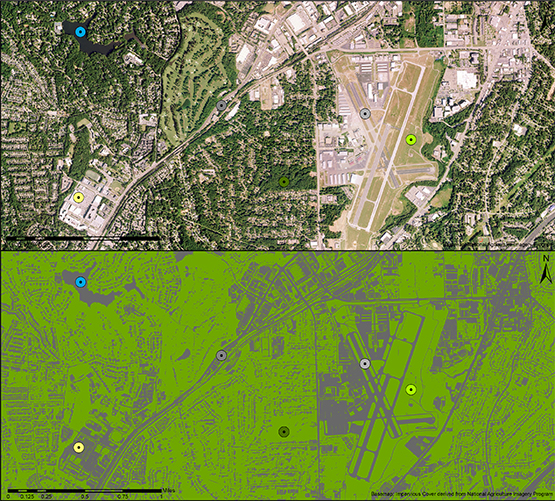 ArcGIS© ONLINE PROGRAM
Cloud-based Information Sharing
The ArcGIS Online platform enables the collection of spatial information and sharing of maps with the public, clients, partners, and internally between colleagues. It allows for real-time updates between all users and can be shared seamlessly in the form of maps and other online applications, such as geospatially referenced public surveys, even with users that do not have GIS software. The ArcGIS Online platform is an umbrella term for many different applications or "apps", which further enhance the experience.
COLLECTOR APP & SURVEY 123
Our staff collects data in the field on mobile devices and share it instantly with other field teams, colleagues back in the office, or clients. Construction inspections, for example, are streamlined and can be sent directly to the client before we even leave the site. Map-based surveys can be used to collect information from the stakeholders or the general public to answer questions that have an inherent spatial component:
"Where are the problems? – Where would you like to see a new park? – Where are
you located?"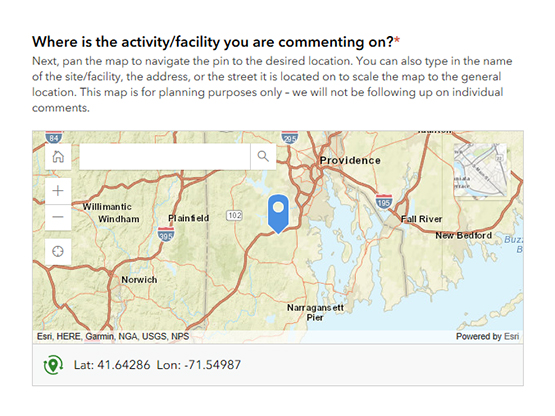 WEB MAPS
A publicly accessible, online map is an effective way to visualize data. Spatial datasets can be added to base maps, aerial images, or custom-made maps to create an intuitive overview of the study area. Survey results can be added as well, so that participants can see spatial patterns of other responses, clients can react to comments, and our staff can analyze the results. These web maps can be accessed on any internet capable device as a stand-alone map or they can be embedded in a client's website or a Story Map.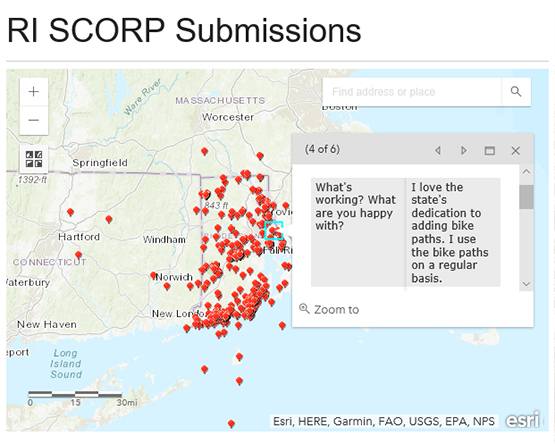 STORY MAPS
To present more complex content in a polished fashion, we are incorporating spatial data into Story Maps. Story Maps connect project narratives with interactive maps, images, and videos. Users read through the narrative and are encouraged to explore supplemental information by zooming in and out of maps, accessing pop-ups, watching videos, and much more. The result is a more compelling, interactive experience, which brings the project to life without losing any of the necessary information or the technical details.