a Master Plan for Habitat, Stormwater, & Recreational Improvements
Nantucket land bank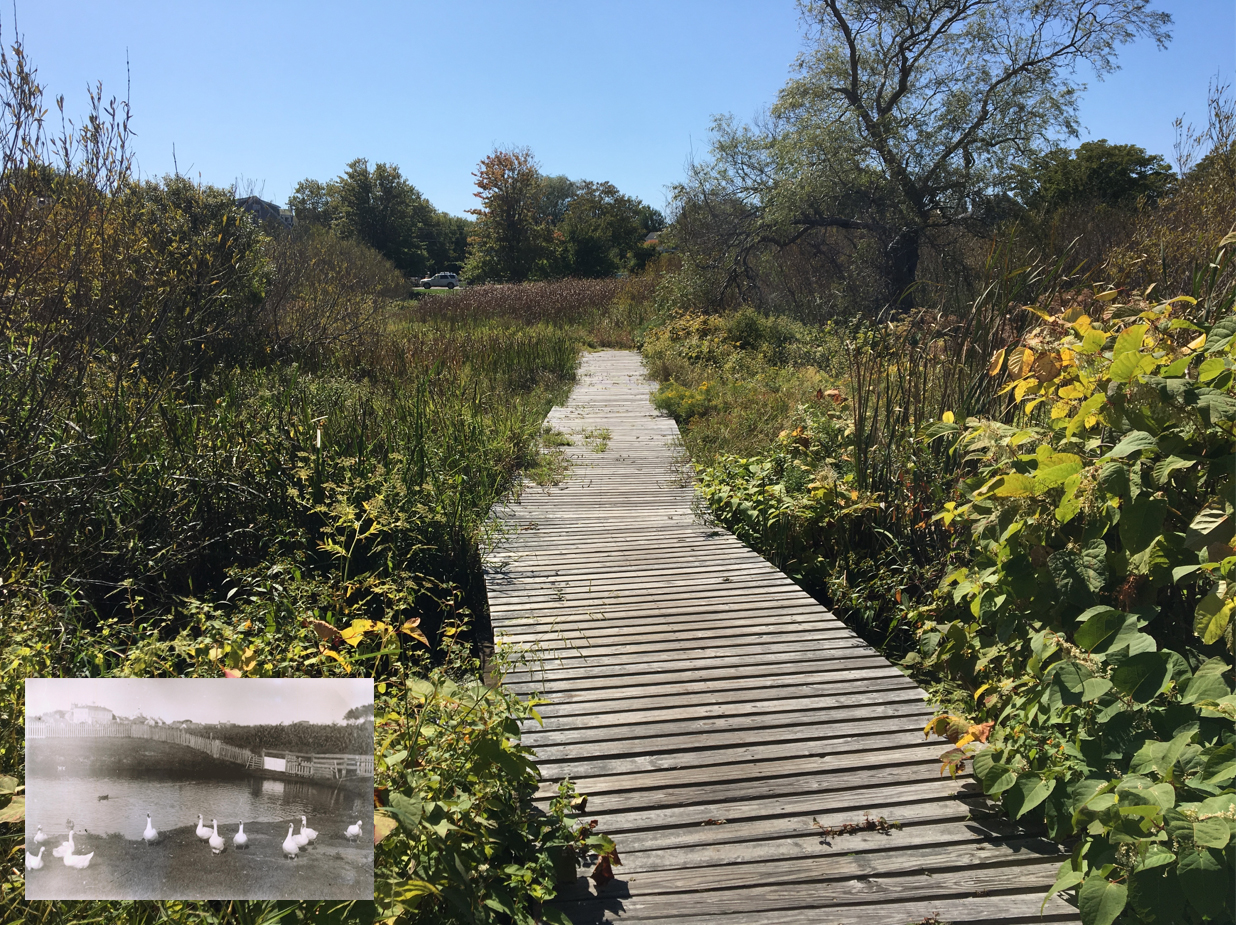 Lily Pond Park wetland and boardwalk today. Inset: Geese in Lily Pond in the 1890's
How often do you get the chance to restore the landscape, improve water quality, and reduce localized flooding?
Not often, but Lily Pond Park in the heart of historic Nantucket is one place where it could happen. HW worked with the Nantucket Land Bank on a Master Plan to improve the hydrologic, ecological, and recreational function of the park, a 6.2-acre property located within the residential outskirts of the historic downtown.
Stormwater runoff from over 90 surrounding acres drains into the park's existing wetlands before ultimately discharging to the Town's drainage system and out to Children's Beach. A watershed services workhorse, the quality of this wetland habitat has degraded over time due to stormwater runoff inputs, hydrologic changes, and an invasive species explosion.
"It's such a gem, tucked into a residential area, I'm excited about what it could be in the future."

-Anne Kitchell, HW Associate Principal, Senior Watershed Planner
The Master Plan presents a preferred approach to restore and diversify wetland habitats, treat runoff with green stormwater infrastructure, and enhance the user experience with improved connectivity and signage. Key features include looped boardwalk extensions, more seating areas and entrance enhancements, daylighting of the existing outlet drainpipe into a surface stream, and restoration of a shallow marsh system with open water pockets. Stormwater Best Management Practices (BMPs) along the park perimeter (constructed wetlands, bioswales, etc.) provide initial water quality treatment.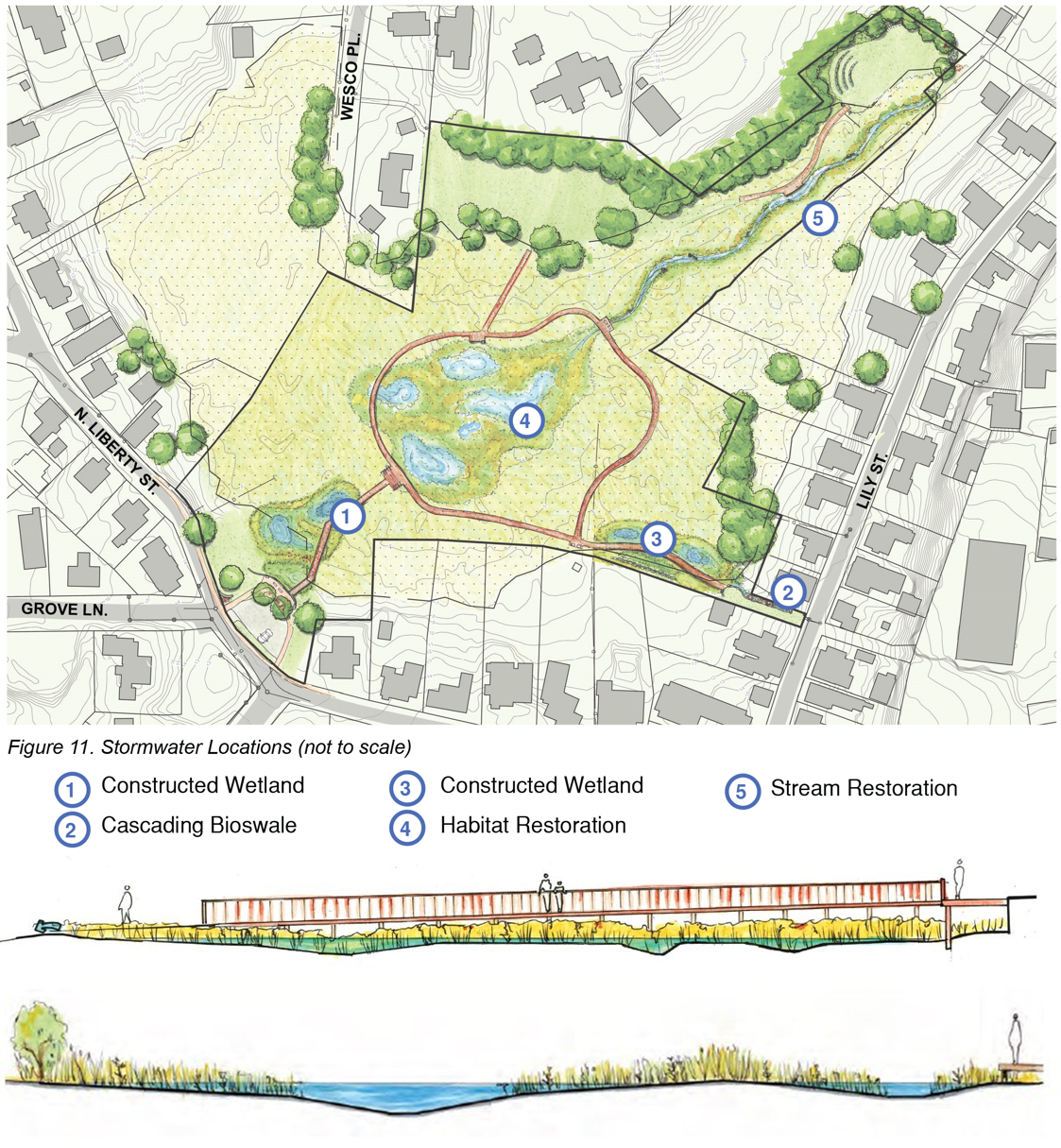 Constructed wetland and habitat restoration illustrations above

Proposed Plan:
The plan prepared for the Nantucket Land Bank Commission includes priority invasive management areas, a phased implementation approach, and planning level construction costs plus contingency. The phases of construction are based on site constraints and staging feasibility include:
Restoration of the central wetland and surrounding boardwalks and overlooks
Restorative daylighting of the original stream
Installation of a constructed wetland and entrance enhancements at North Liberty St.
Construction of a cascading bioswale and constructed wetland with boardwalk at the existing Lily St. entrance
Entrance improvements and upland amphitheater at 36 Lily acquisition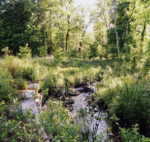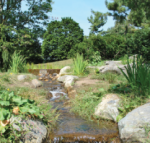 Example precedent images (left to right) of open water portion of a restored wetland, restored surface stream, constructed wetland, and cascading bioswale
Project Benefits:
Water quality – twice as much sediment removal and 1.5 times nutrient reduction over existing conditions
Flood management—by lower ponding elevations and shortening of inundation periods in the park and adjacent properties
Habitat enhancement—restoring diversity of wetland and stream habitats and controlling invasive plants
Improved visitor experience—enhanced park entrances, additional seating, more programmable upland areas, and looping boardwalks
Next Steps:
There is still much to be done including discussions with permitting agencies, DPW, and neighbors. We look forward to working with the Nantucket Land Bank and others moving forward on soil evaluations and water level monitoring, advancing restoration designs, and permitting.