Form-Based codes on cape cod
An approach to a more consistent, attractive, walkable environment, Post by Jeff Davis, AICP, Planner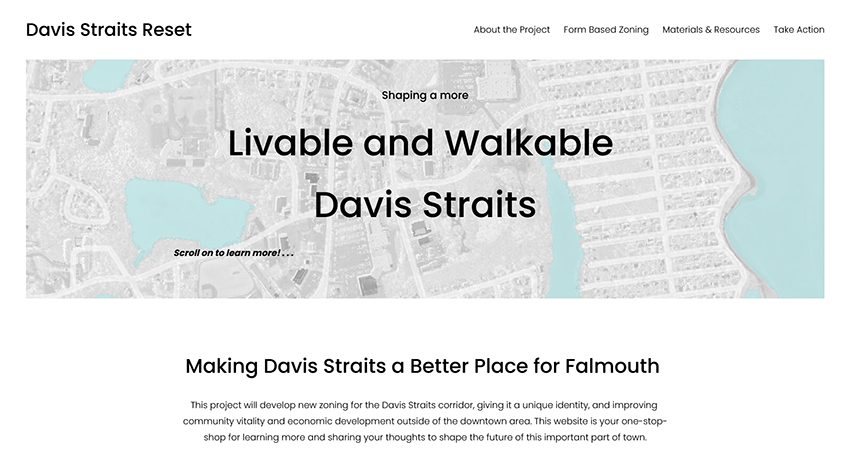 Have you heard of form-based codes?
*Form-based codes offer a new way to think about development regulation—one that encourages vibrant mixed-use centers, respects a community's historic values, and protects the environment. These neighborhoods support businesses large and small, with streets that are safe and attractive for walking and bicycling.
Zoning reform is a process that involves many interests and is most successful with an engaged community that sets goals and communicates well over time. With proper planning and outreach, zoning initiatives can help transform an area of town for the better! Our planners from our Providence location are excited to be assisting Union Studio Architecture & Community Design and the Town of Falmouth in updating zoning for Davis Straits, a commercial area that is largely auto-dependent.

While updating its local comprehensive plan, the Town expressed interest in an alternative regulatory approach called form-based codes. Form-based codes are design-oriented regulations that place emphasis on the form of the built environment(buildings, streets, and open space) rather than uses (residential, commercial, etc.) as a primary driver of development. This approach is increasingly being used to retrofit older downtowns and commercial areas to encourage more mixed-use and pedestrian-friendly neighborhoods. The goal for Davis Straits is to establish building types, the relationship of buildings to public spaces, the types and location of streets, the placement of parking, the size of blocks, and more.
"The strategic advantage of a form-based code is that it ties the policy goals of the municipality to the specific types of development that are most desirable to the community"


Cape Cod Commission, Framework for Form-Based Codes on Cape Cod

Although meetings have been virtual, the HW project team created a robust website to help support the initiative. Learn more about Davis Straits and read supporting form-based code materials from the Cape Cod Commission, Union Studio, and Smart Growth America at the project website.
Listen to The Point with Mindy Todd, WCAI, Planning for the Cape Cod of the Future