gemma kite, p.e.
Senior Environmental Engineer
Gemma Kite's experience includes state guidance development, hydrogeologic investigations and modeling, onsite wastewater treatment system management and regulatory framework, watershed planning and assessment, and emergency preparedness training.
Most of us turn on the tap without ever acknowledging what goes into having safe and clean water in our homes whenever we want it. Let's all take a moment today to Imagine a Day Without Water and how that would affect our daily lives. We have so many options and conveniences. #ValueWater
Prior to working at Horsley Witten Group, I served in the Peace Corps from 2008-2010 in Konza, Mali, which is a rural community with no running water. When I arrived in the community, only two of the five water pumps were working. Every morning I would strap my two 5-gallon jerry cans to the back of my bicycle, bike to the nearest community water pump, and wait in line for my turn to collect water. Most days, time spent waiting in line was eased by listening to and joining in with the other women swapping jokes and gossip with each other. I was fortunate that I had a bicycle to assist me in carrying the full jerry cans back to my house. Most of the people had to balance their buckets, bowls, and jerry cans on top of their heads being careful not to spill any water on their way home. I conserved water and reduced my use organically since water access was not exactly what I had been used to in the States.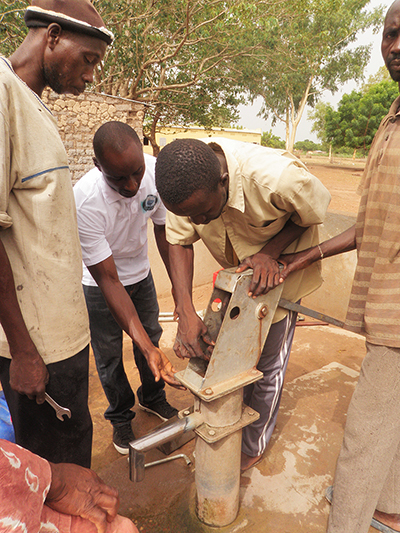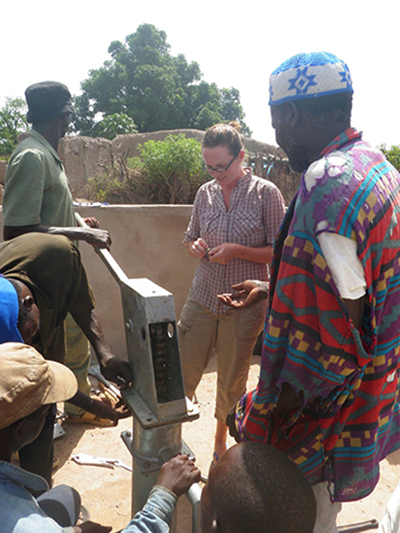 What would your day look if you had to walk to access water? According to UNICEF, 207 million people spent over 30 minutes per round trip to collect water from an improved source.
I watched as children would rush each other impatiently to get their water quickly so they wouldn't be late to school. Women would spend a disproportionate amount of time returning to the pump multiple times throughout the day to provide enough water for their families. The time spent collecting water could be better used to study and do homework, partake in income generating activities, or manage other chores. Without the pump water, residents would turn to other sources of water – like unprotected hand-dug wells or surface water sources also used by livestock.
As I became concerned about the strain on the two functioning pumps, I asked about the three broken pumps and discovered that no one in the community knew how to repair the pumps or where to obtain spare parts. No preventative maintenance was done on the pumps, and no money was collected to pay for maintenance or repairs. When a pump broke, people walked a little further to collect water from the remaining pumps that did work. I asked what would happen if all the pumps broke, and the elders responded that they would collect a mandatory tax from all households to fix it.
This situation was not sustainable and would eventually result in all the pumps breaking and residents turning to unsafe sources of water. I worked with the community to set-up pump maintenance training for a few community members and purchased a few pump repair tool kits. They would use this new training to serve as pump mechanics for other communities to earn income. I helped to ensure a supply chain of pump spare parts in the nearby city.
Most importantly, I conducted community outreach to educate residents on the importance of a preventative maintenance and the management of a fund to be able to pay for preventative maintenance and repair work. Malians love to use proverbs to teach lessons, so in order to get the preventative maintenance message across to community members, I likened the water pump to a bicycle: if you do not clean and oil the chain regularly, eventually the bicycle will stop working. After the Peace Corps, I went on to work for an NGO in Sierra Leone and worked with the government to establish a district-wide pump maintenance program, applying my knowledge learned in Konza to a much larger region.