experience the Garden of the senses
Brian Laverriere, Landscape Architect
Brian Laverriere provides landscape and graphic design services for a variety of private and public entities. He has worked on projects that include ecological restoration, campus/landscape master plans and design guidelines for conservation land, LID stormwater practices for both roadway and parking facilities, streetscape improvements, community centers and residential gardens.
Imagine traversing the new gardens with the sweet fragrance of Clethra in the air, feeling native ferns as you pass by, chewing on a delicious treat from the Magnolia Café with Chickadees chirping in the trees, all while you're watching bees buzz around the McGraw Family Garden of the Senses. Come experience complete relaxation and evoke your emotions at the new sensory garden!
Heritage Museums and Gardens in Sandwich, Massachusetts is a beautiful place. The grounds have so much to offer, yet there has always been a problem of universal access. If you've ever been to Heritage – after the Magnolia Café – on your right-hand side – there's a challenging hillside. Dangerous even for the able-bodied. Some families had to regrettably turn back, being restricted to only a portion of the elaborate gardens. As designers for the McGraw Family Garden of the Senses, we set our goal of solving the problem of universal access.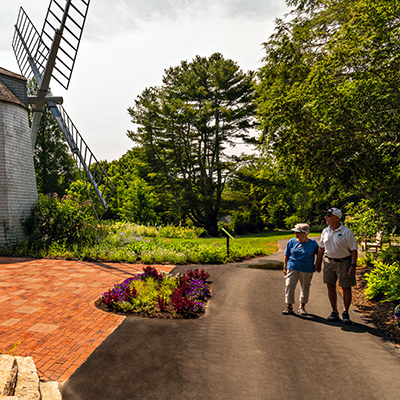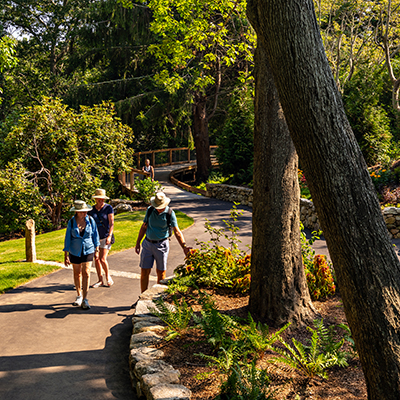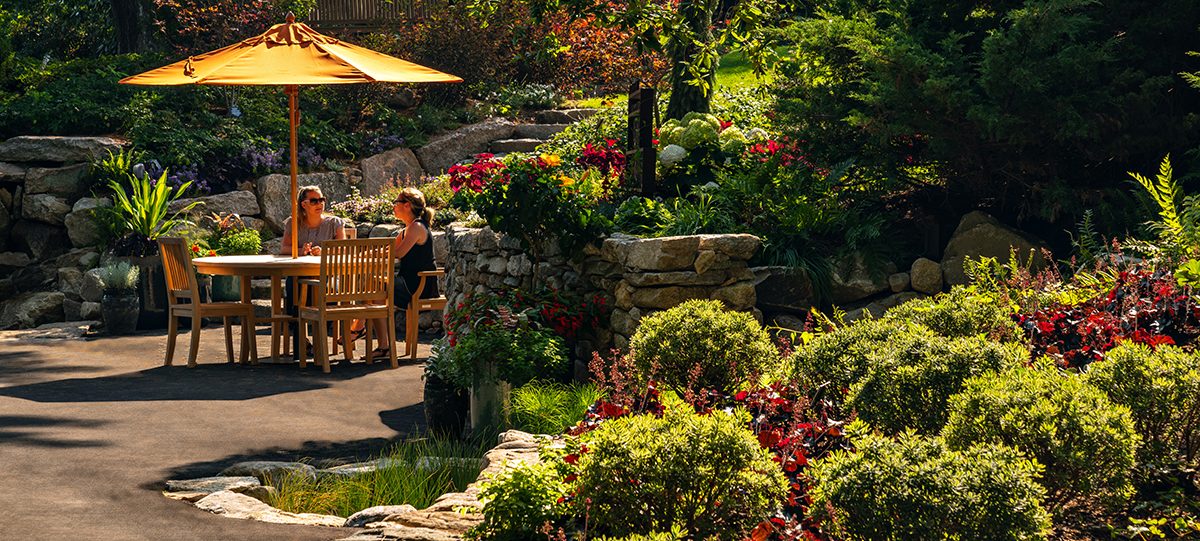 Collaborating with our design partners, we proudly looped in new and old areas of the gardens once unobtainable for many. Today, every patron of Heritage has equal opportunity to safely reach the bottom of that steep slope. Although providing access was our top priority, improving public safety was one of many results as shuttle traffic is now separate from the primary pedestrian flow-path.
We worked with DirtWorks to align the proposed pathway for full ADA compliance. In doing so, we brought the Hart Maze more into the fold and have tried to engage users across a Black Locust boardwalk built by Henry Ellis Construction. Smooth Black Locust handrails were specifically detailed by DirtWorks to help extend one's hand to combat arthritis. Happily living underneath the boardwalk are two lush rain gardens which collect stormwater runoff, representing just two of the many therapeutic/educational elements you'll find at the new sensory garden.
The focal point is the Garden of Hope, where two naturalistic water features bubble in the plaza. Thanks to Baystate Aquascapes, one of the water-features is equipped with a flowing channel that can be touched at chair height. Both stone sculptures seamlessly blend into the natural scenery. Overhead, a magnificent Dawn Redwood stands strong. The design meanders the plaza as to avoid disturbance within the tree's dripline. Thanks to the McNamara Brothers, serpentine stonewalls consistent with the water-features retain the high-slope.
From all of us at the Horsley Witten Group, we're thrilled to have played a part in this project, and look forward to watching the gardens grow!
Photography:
Dan Cutrona Photography
Visit the Garden of the Senses:
Heritage Museums and Gardens
Project Partners:
Dirtworks, Landscape Architecture
Henry Ellis Construction
McNamara Brothers Landscaping
Baystate Aquascapes
Robert B. Our Company, Inc.
Heritage Museums & Gardens Staff
Read the Cape Cod Home article: Welcome One and All, Spring 2020