Horsley Witten Group ─ Celebrating 30 Years of Sustainable Success!
Environmental Consultants for New England & Beyond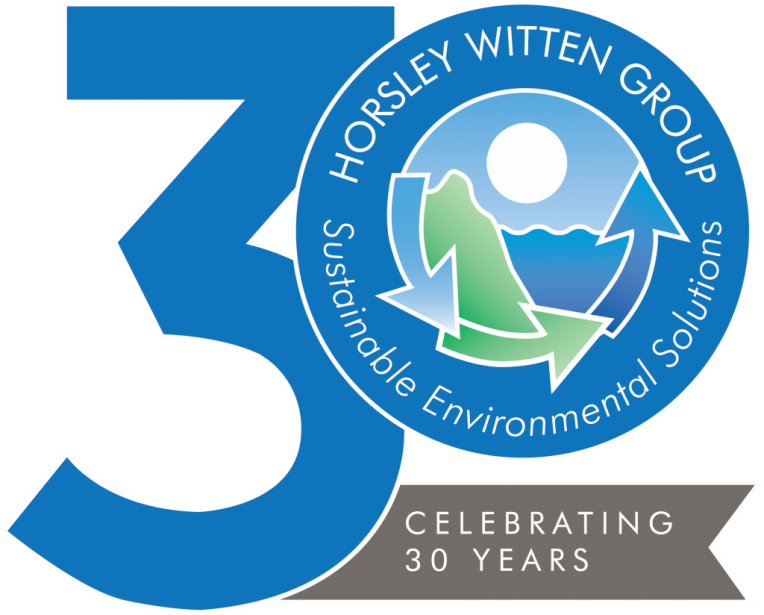 SANDWICH, MA, October 17, 2018 – Thirty years ago this fall, Horsley Witten Hegemann, Inc. opened its first offices in Barnstable and Cambridge, MA. The company's projects focused on wellhead protection and community planning in Massachusetts. The company expanded, changed its name twice (Horsley & Witten, Horsley Witten Group, Inc. – (HW), and the rest is history. Today our offices in Sandwich, Boston, Providence RI, and Exeter, NH serve the municipal and private markets well. The company has 50+ engineering, science, planning, design, and support professionals and manages complex projects in all 50 states, the U.S. Territories and Commonwealths, and internationally. Over the years, HW has built a strong reputation for work featuring water quality/restoration, stormwater management, climate resiliency, urban planning, master planning, affordable housing, and emergency preparedness training.
"Regardless of the client or the scale of the project, the approach is the same. Avoid impacts wherever possible; reduce impacts where disturbance cannot be avoided – mitigate impacts from previous development, and improve conditions wherever possible." says Nate Kelly, Principal Planner. "We're a collaborative group of experts dedicated to doing work that moves our clients to a greater level of sustainability and resilience. We're looking forward to many years of providing sustainable environmental solutions ─ solutions that work for our clients and the environment."
Two new projects deserve special recognition, Impact Investment Options and Plymouth 400 Design. HW has joined Quantified Ventures and Offshoots, Inc. to support The Nature Conservancy in collaboration with the Barnstable Clean Water Coalition and the Town of Barnstable. As a team, we're exploring options to implement nature-based solutions that will help mitigate nutrient pollution in our waters. This pilot study will focus on the Three Bays Watershed on Cape Cod, building on data gathered as part of the Cape Cod 208 Plan. Some of the potential solutions include cranberry bog restoration, fertigation wells, stormwater treatment, aquaculture, permeable reactive barriers, stormwater management practices, and innovative wastewater treatment systems. The team aims to develop viable pilot blueprints that offer a menu of options to facilitate private investment in these more innovative solutions and increase the pace and scale of implementation.
Another project, for the Plymouth 400 organization, continues the conceptual design work HW did for the Pilgrim Hall Quadricentennial Park. This park will provide a permanent installation commemorating the 400th anniversary of the founding of Plymouth Colony and the interaction of the Wampanoag indigenous people and the English Pilgrims, a story that shaped the building of America. The proposed park is at the top of Cole's Hill overlooking nearby Plymouth Rock and the harbor. We will be providing the design and construction plans for this outdoor museum space that will include an interior plaza space, a viewing platform, and plantings that incorporate interpretive and commemorative elements such as cardinal direction symbols, maps, and artifacts. This park will provide the Pilgrim Hall museum with new ways to interpret the history of Plymouth Colony and beyond.
Horsley Witten Group is a leading-edge engineering, planning, and environmental consulting firm providing sustainable design solutions for 30 years. Its award-winning projects address critical environmental challenges including climate change, coastal resiliency, watershed health, and open space and natural resource protection. Its services include site design, green infrastructure, smart growth planning and community design, zoning regulation review, water and natural resources assessment, and emergency preparedness. Horsley Witten Group is a New England-based corporation headquartered in Sandwich, MA with regional offices in Boston, MA, Providence, RI, Exeter, NH, and St. Croix, USVI. For more information, see horsleywitten.com, Facebook, LinkedIn, Instagram, YouTube.