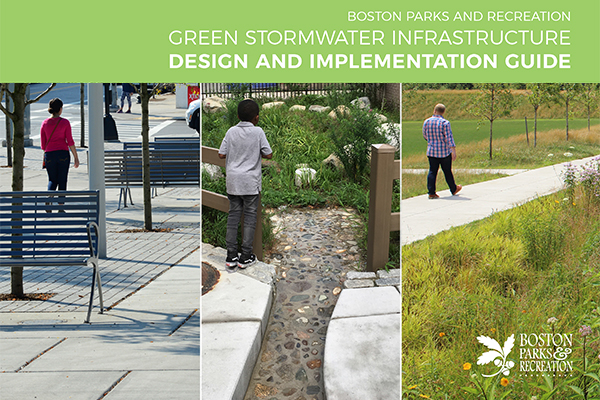 "As a manual for implementation this submission is very user friendly and does an excellent job of communicating to its intended audience. Information is presented via easy-to-follow icon language and technical data, and it nicely balances skimming and deep dives, providing immense value to the reader."

BSLA Jury comments

About the BSLA Design Awards Program
Boston Society of Landscape Architects (BSLA) seeks to recognize excellence in the diverse practices of landscape architecture. Projects should demonstrate excellence and reflect the careful stewardship, wise planning, and artful design of our cultural and natural environment. Awards may be granted in LANDMARK, PROFESSIONAL, and STUDENT categories, for design, analysis & planning, communication, and research projects.
GSI Design & Implementation Guide Wins Award
The Boston Society of Landscape Architects (BSLA) has awarded HW with a Professional Merit Award in Communications for the Green Stormwater Infrastructure Design and Implementation Guide created for Boston Parks and Recreation Department (BPRD).
Congratulations to everyone who worked on this Guide! HW and our teaming partner, Brown, Richardson + Rowe, are honored to have collaborated with BPRD on the creation of the Guide. This team effort included invaluable contributions from the Boston Water and Sewer Commission and the Trust for Public Land.
As climate change introduces new constraints and threats to Boston, resiliency has been identified as a city-wide goal. BPRD is looking to advance the implementation of Green Stormwater Infrastructure (GSI) strategies to meet resiliency, livability, and health goals. The Guide is intended to assist BPRD staff, as well as city agencies and consultants, to design, implement and maintain resilient, multi-functional parks that maximize benefits to park users and the environment.
The Guide includes distinctive key steps:
Defining and redefining GSI objectives with BPRD staff, partners, stakeholders, and volunteers throughout the project

Identifying the park contexts to understand all uses, allowing the layering of functionality and integrating, instead of inserting GSI into the park

Understanding and addressing maintenance requirements, expectations, and capabilities during the design process

Leveraging partnerships which can lead to additional funding for design and construction as well as shared resources and maintenance capabilities
View an example of a practice page from the Guide outlining considerations for designing GSI in parks.