NBS wins RIASLA award
Norman Bird Sanctuary Comprehensive Management Plan
We are pleased to announce that the Rhode Island chapter of the American Society of Landscape Architects (RIASLA) has awarded the Norman Bird Sanctuary Comprehensive Management Plan with honors in the Planning and Analysis category.
Congratulations to everyone who worked on this plan including the Norman Bird Sanctuary! The Comprehensive Management Plan serves as a roadmap to responsibly maintain, preserve, protect, and share this enormous treasure in perpetuity.
We worked with McLaughlin and Buie, and NBS landscape consultant, Tanya Kelly on plan development. We are happy to report that since it's adoption, NBS has been successfully implementing the plan. Brian Kuchar, P.E., RLA accepted the award on behalf of the entire team at the recent RIASLA holiday party.
"The Comprehensive and Invasive Species Management Plans have been tremendous! We have used it exclusively to manage our property and the iPad mapping is amazing. What a successful project for us – it has made a world of difference." – Natasha Harrison, former Executive Director of NBS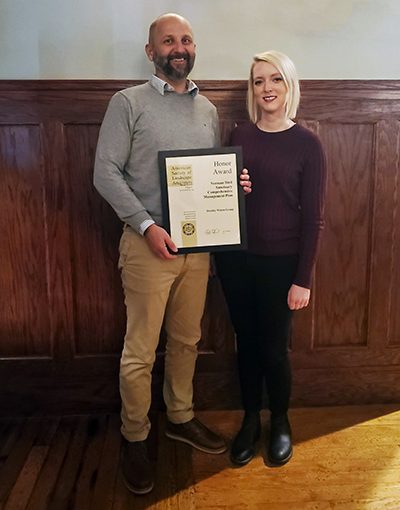 Brian Kuchar, P.E., RLA with Lindsey Langenburg, RIASLA President. Photo: Rebecca Nolan