Chattanooga, TN
Horsley Witten Group is collaborating as part of a team led by Dover, Kohl and Partners and others to develop a Master Land Use Plan for Chattanooga's West End. Comparable in size to other well-loved urban places such as Boston's Back Bay or downtown Savannah, Georgia, the West End consists of 95 acres of industrial-oriented land with over ¾ mile of frontage on the Tennessee River.
A truly interdisciplinary effort, the team analyzed the site's existing conditions and context in great detail, and used this information to conceptualize a unique, new neighborhood. This project considered all levels of site design; from historical context, to environmental and stormwater integration, to human interaction and placemaking. The result is a vision for a one of a kind place that reuses old steel structures, provides a car-optional mobility network, and utilizes stormwater as a public amenity in the form of a central canal. HW staff led infrastructure design and public realm elements of the plan.
More information:
Learn about the project , view designs, and a brief project video (6min) here.
Project Team:
Dover, Kohl & Partners
VHB Engineering
Hall Planning & Engineering
Partners for Economic Solutions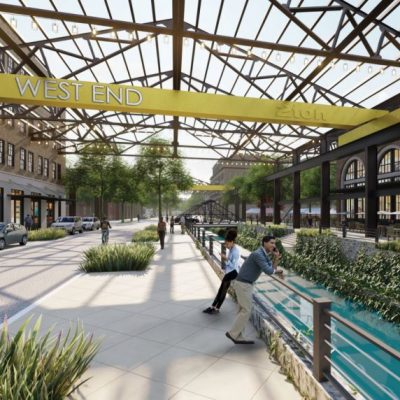 Dover, Kohl & Partners